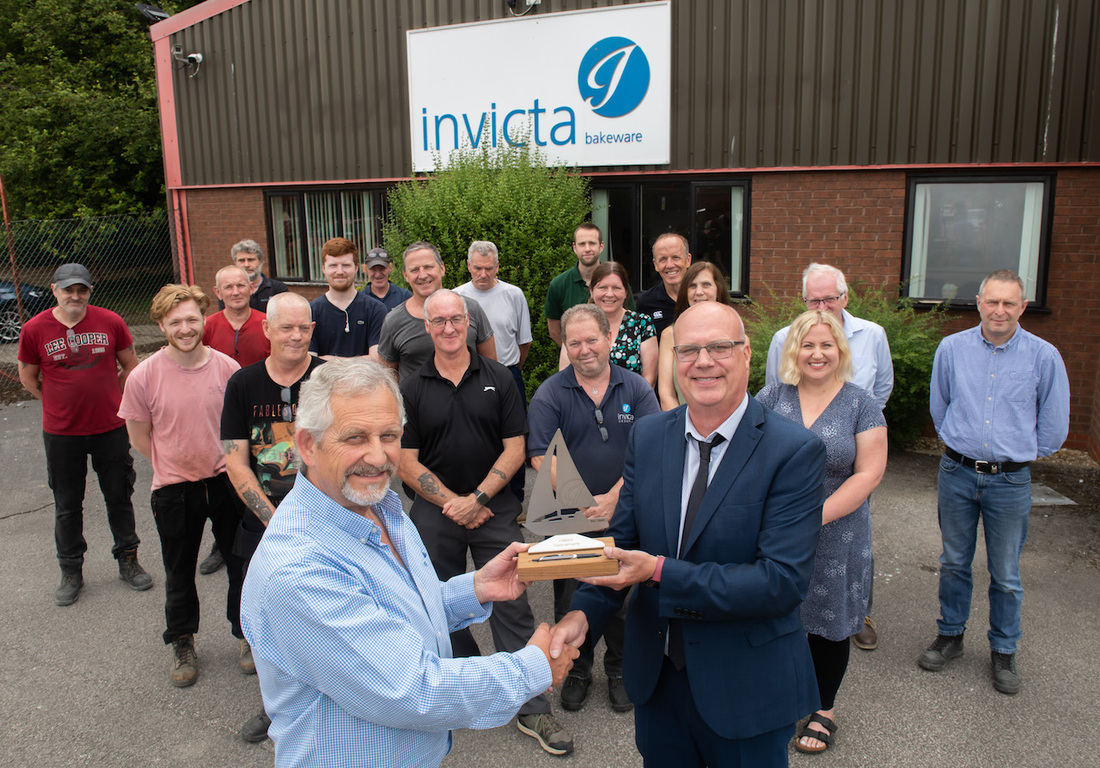 John sails into retirement after 43 years at Invicta
Posted
Invicta Group Chairman, John Waddington, retires after 43 years
Invicta's Group Chairman, John Waddington, has been saying goodbyes to staff and customers this month as he retires from the company following 43 years of dedicated service.
John first joined the business – then named 'Invicta Sheet Metal Company Ltd.' – in 1978, having previously been employed as a draughtsman/design technician in Leeds. The move to Invicta, which was then based on a farm just outside Pickering in rural North Yorkshire, was only intended as a temporary measure while he looked for something that was more 'outdoors-orientated'. What actually followed was a career journey that led to him reaching the top of the company and playing a major role in steering it through decades of innovation and change.
John started out by helping the Jones family (who owned Invicta) in the office. This encompassed everything from payrolls to sales. He also learned the 'ins-and-outs' of the baking industry, so, when Mr Jones died in 1982 he was able to take on the role of managing the office with the support of Mrs Jones. He was awarded a directorship in 1984, and continued to work alongside Keith Stamper, Managing Director.
In the years that followed, the pair worked hard to dynamise and expand the business, which included the opening of their purpose-built factory on the outskirts of Pickering. The premises were to be extended a further three times and today Invicta is one of the UK's leading suppliers and manufacturers to the bakeware, catering and food processing industries.
On Keith's retirement in 2010, John became Managing Director and under his leadership, the company has continued to go from strength to strength, including the launch of the plastics division, Food Industry Supplies, which has enabled it to greatly expand its markets. He was also instrumental in Invicta's move to employee ownership at the end of last year when Martin Brown took over as Managing Director and John became Group Chairman.
"John has been a steady hand at the helm of the company for many years and it is due to his considerable talent and dedication that Invicta leads the market today," said Martin Brown. "He carries enormous respect within the industry as a whole, as well as from the team here at Invicta. Thanks to him, Invicta has a reputation for friendly and efficient service, sound business ethics and fair trading practice. We wish him a very well-deserved and happy retirement."
Speaking about his retirement, John Waddington said: "I have thoroughly enjoyed my time here at Invicta. Over the decades, I have had the honour of working with excellent and loyal staff and it is testimony to the friendly, family atmosphere that so many of us have worked here for so long. I have also really valued the daily interaction with customers and I thank them for their business and support.
A keen sailor, John is looking forward to spending more time exploring the Northumberland coast and enjoying the company of his extended family.